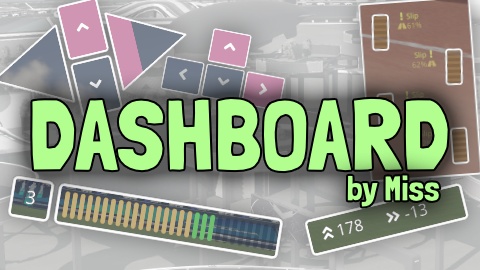 Site ID: 103
Posted: May 25 2021
Last updated: January 8 2022
Download Dashboard.op (26.49 KB)
How to install plugins Send a donation to the author
---
Display a bunch of Trackmania vehicle information on screen. Nice for streaming overlays!
Features
Controller visualization
Gearbox visualization
Speedometer
Accelerometer
Wheel info visualization
Works in solo
Works online (including spectating)
Works for replays (see disclaimer below)
Fully customizable with many settings

Toggle each widget
Positions & size
Colors & styles
Configuration
This plugin has many settings. You can find them in the Openplanet settings window itself under the Dashboard tab.
Source code
The source code of this plugin is on Github. Feel free to send pull requests!
Support
You can sponsor me on Github to support future plugin development (as well as Openplanet and Trackmania.io development)!
Changelog
1.8.1
Added "Unified" wheels style
Fixed exported script not compiling in dependent plugins
Deprecated "Hide on hidden interface" setting in favor of new global Openplanet setting
1.8.0
Added compact keyboard display
Added exported functions for plugin dependencies
Fixed padding on acceleration widget
Fixed text alignment on acceleration widget
1.7.3
Added new Cateye style for gamepad (thanks Skybaks: #34)
Fixed inputs not being visible when watching ghosts from leaderboard widget
1.7.2
Fixed Dashboard being broken when using an older Openplanet than 1.20.0
1.7.1
Updated icon font filename for compatibility with Openplanet 1.20.0
Dashboard is now hidden during intro (thanks Skybaks: #31)
Added "km/h/s" as a possible unit of measurement for the accelerometer (thanks Atheuz: #27)
1.7.0
Added new Accelerometer widget (thanks Atheuz: #24)
Added support for Maniaplanet 4 (thanks Atheuz: #21)
Fixed border alpha for keyboard up/down (thanks skybaks: #25)
Fixed braking not always showing up on keyboard and classic gamepad
Fixed errors on Turbo during loading screens
1.6.2
Added support for Openplanet 1.17.8
Added support for Trackmania Turbo
1.6.1
Fixed wrong info shown when spectating online
Fixed 1 pixel line on keyboard buttons when not steering
Fixed missing keyboard background fill option
1.6
Added support for analog keyboard input
Added wetness info to wheels
Added option to toggle gamepad up/down symbols
Added border width and radius options to wheels
Fixed dashboard showing when placing down car in editor for testing
1.5
Added Classic off alpha option for classic gamepad
Fixed dashboard not showing up during replays
Fixed wrong check of interface visibility
1.4
1.3
Added support for 2021-06-03
Removed maximum game version check and added some safety checks
1.2
Added support for 2021-06-02
1.1
Added a new option "Hide on hidden interface", which will hide the interface when you hide the game's interface with numpad asterisk
Added options to change classic gamepad steering color
Added options to change fonts in Gearbox, Speed, and Wheels widgets
Added option to change Gearbox text color
Fixed negative sign flickering in Speed widget
Disclaimer
Because of recent events regarding cheated world record runs, I have to put a disclaimer here: You can not and should not judge inputs shown during replay on whether or not they are cheated! The displayed inputs are interpolated and not exact.
Competition build
Dashboard signed for the competition build of Openplanet can be found here. (Not as frequently updated, please ping me if you need an update!)