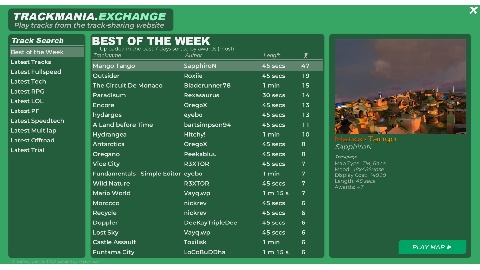 Posted: August 23 2020
Last updated: September 20 2020
Download Plugin_TmxMenu.zip (7.89 KB)
---
TMX Menu
Latest version is 1.3.0
This plugin creates a window in the main menu which allows you to browse tracks from TMX and launch into them directly.
Adding Your Own Searches
The searches are listed in the leftmost side menu of the GUI, these are each queries to the TMX API. Some of the searches come pre-filled out, but you can add your own through the Settings. Open the Openplanet settings for the TmxMenu plugin and scroll down to an empty setting group which should consist of:
Short Name - Short name of the search, will appear in the side menu
Query - Map Search parameters per TMX API concatenated by &
The Query should not include the limit query parameter because it is added to the searches by the plugin. The following are some example queries:
priord=2&mode=2&customscreenshot=1&commentsminlength=50 - Latest tracks with a custom screenshot and comments longer than 50
priord=2&unreleased=1 - Latest unreleased tracks
Changes
1.3.0
Show track name and author on the loading screen
Show track screenshot if it exists instead of always the thumbnail
Added Tags to displayed track information
Null selected row upon page change to fix a highlighting bug
Fixed custom tracksearch settings not being saved between sessions
1.2.0
Updated the default searches to be more interesting
Removed 'Description' and 'LongName' to declutter the settings and the UI
Added #perms "paid" and a got signed for use by standard access users
1.1.0
Added paging to the menu, you can now view more than one page of tracks from a search!
Added a refresh button to the top left of the menu, click this to re-do the current search
Added caching for search results, unless you click the refresh button switching back and forth between already performed searches will not require any load times!
1.0.0