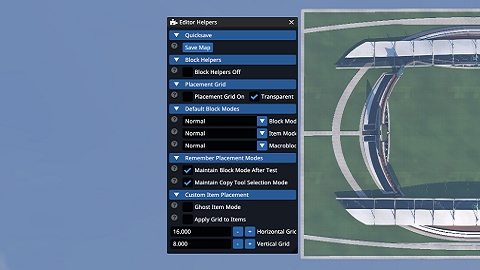 Site ID: 69
Posted: December 31 2020
Last updated: October 4 2021
Download EditorHelpers.op (15.2 KB)
---
This plugin exposes functionality in the map editor and has some helpers to streamline doing certain things. All of the functions provided by this plugin at toggle-able in the settings and can be completely hidden and disabled if not desired.
Functions
One Click Save - Provides a button which will save the current map in one click. No need to click through 4-5 dialog windows.
Block Helpers - A simple toggle switch to show or hide the clip helpers on blocks.
Placement Grid - Shows the helpers placement grid and remembers settings between editor and game launches. Also has an option which will make the alpha of the helper grid completely transparent so it will be grid only.
Default Block Modes - Set the default mode of Block, Item, or Macroblock placement. For example, if you prefer to be in Ghost block mode or Free Item mode, it will set those when you switch into block mode or item mode.
Remember Placement Modes - A couple miscellaneous modes which do things like switch you back to item or macroblock mode after being in test mode or keep your selection mode in subtract after moving the camera.
Custom Item Placement - Force a custom grid placement onto any item. Additionally, force ghost mode onto any item.
Freeblock Mode Precise Rotation - Allows any rotation angle to be input for freeblock mode. Provides presets for game slopes (BiSlope, Slope2, ...).
Hotkeys - Adds some hotkeys for common things that don't already have hotkeys. If you have ideas for more things to add hotkeys for, please don't hesitate to suggest!
Installation
To install this plugin, download the file(s) and place in C:\Users\<Username>\OpenplanetNext\Plugins or use the Plugin Manager!
If you have any suggestions or wishes for features to add feel free to reach out on the Openplanet discord server.
Changelog
4.1
Fixed a bug in custom item placement vertical step
Added new feature, hotkeys! First hotkey added is airblockmode, defaulted to 'A'
4.0
Added a compatibility layer and support for MP4
Further backend code refactoring
3.0
Convert to new plugin format!
Correct Enums for new API
Bugfix to Quicksave, format codes were being stripped from the map name
2.4
Correct permissions checks to allow standard access usage (I hope)
2.3
Signature for standard access users
Cleanup/Removal of map statistics, considering moving to a standalone plugin
2.1
Added Map Statistics Function
Added Freeblockmode precise rotation Function
Refactored settings into categories
Refactored Update loop to be in Main instead