The overlay
You open the Openplanet overlay by pressing F3. (If this doesn't work, see troubleshooting.)
Main menu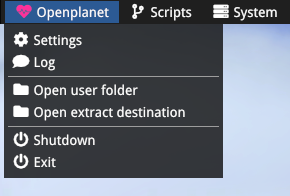 In the main menu, you can access all the common options and open every other dialog. Everything should kinda speak for itself, but this page will highlight a few of the more interesting ones.
NOTE: In the above screenshot, the Shutdown option will cleanly shut down ManiaPlanet, while Exit will force close the game instantly.
Settings dialog
On the settings dialog you can set some general settings for Openplanet, as well as script plugin settings per plugin that is enabled.
The "Plugins" tab shows a list of installed plugins as checkboxes. If they are checked, it means the plugin is enabled.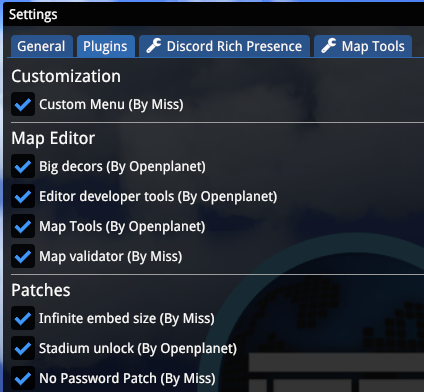 Nod explorer
The nod explorer is one of the most important dialogs in Openplanet. It allows you to "explore" the game through its many "nods". A Nod is basically an object of some (often serializable) class in the game. All of these nods inherit from CMwNod, which is why it's called the Nod explorer.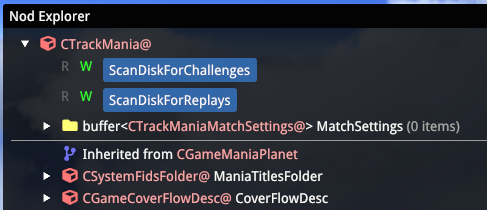 The standard base of the Nod explorer is the main game app. This app is always of type CTrackMania for the regular ManiaPlanet game.
Fid explorer
The fid explorer lets you explore the files mounted within ManiaPlanet, as well as extract them to the physical file system.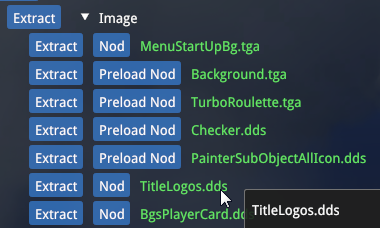 You can access an individual title pack's fids by loading it in ManiaPlanet, and going to System -> Fid Packs in the Openplanet menu.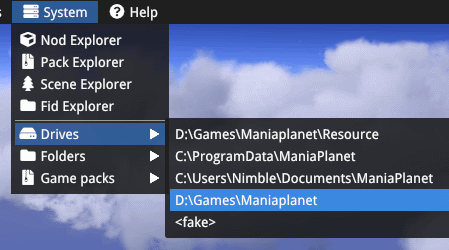 NOTE: Due to a currently unfixed bug in ManiaPlanet, some files may fail to extract correctly and will therefore be corrupt on disk. This is a known issue that is being looked into. The majority of files do not have this problem, however.
NOTE 2: It is also only possible to extract files from Nadeo's official (title)packs, and your own titlepacks. It is not possible to extract files from title packs not created by yourself. (This is not an Openplanet limitation, it's an intended restriction.)
Script debugger
The script debugger displays what each plugin is currently doing and how much time is spent doing it. This can be useful for debugging your scripts. It doesn't currently feature stepping through the code line by line, but this will probably be implemented in a future update.