Discord Rich Presence
The Discord plugin in Openplanet will enable full Rich Presence support for ManiaPlanet and TrackMania Turbo in Discord.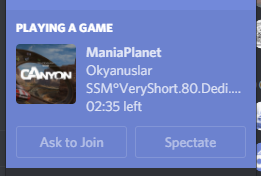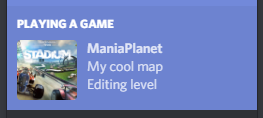 Chat invites
It's also possible to use chat invites. Just click the + with the green icon while you're in a server.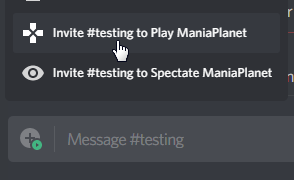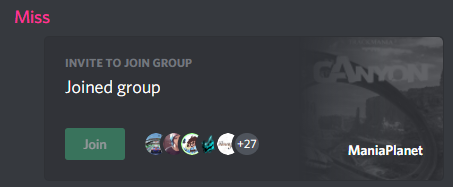 Ask to join
Ask to join is enabled for Openplanet, meaning you can ask your friends to join them in multiplayer, and they get the join request directly in their game.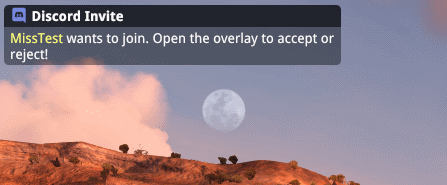 Supported statuses
The plugin will show the following environments:
TrackMania² Stadium
TrackMania² Canyon
TrackMania² Valley
TrackMania² Lagoon
ShootMania Storm
As well as the following titlepacks:
TrackMania² Pursuit
TrackMania² Pursuit Stadium
TrackMania² Competition
TrackMania² Nimble
TrackMania² United Forever
TrackMania²
TrackMania One: Alpine
TrackMania One: Speed
TrackMania One: Coast
TrackMania RPG
TMPlus Canyon
Endurance
ShootMania Storm: Battle
ShootMania Storm: Combo
ShootMania Storm: Elite
ShootMania Storm: Joust
ShootMania Storm: Royal
ShootMania Storm: Siege
ShootMania Storm: Warlords
ShootMania Obstacle
ShootMania Galaxy
ShootMania Infection
ShootMania SpeedBall
It supports the following different statuses:
Game and main menus
Multiplayer server
Solo map
Editor